Novo update insere de forma permanente MatchMaking 2vs2
[
UPDATE 13:00:00 - 14/11/2017
]
Os mapas que fazem parte da rotação competitiva para este Matchmaking 2vs2 são os seguintes: Lake, Rialto, Shortdust, Cobblestone, Overpass, Inferno e Train. Todos os mapas foram adaptados e com vias cortadas para que se jogue apenas na parte do mapa que o jogo pretende que os jogadores atuem, como já é normal no 2vs2.
O Rank de 2vs2 é independente do normal 5vs5. Todos os jogadores necessitam de alcançar 10 vitórias para fazer os placements e ficar com acesso a este segundo rank, que depois é em tudo normal ao sistema já em vigor. Desde Prata 1 até Global Elite.
[/]
O update da madrugada de hoje para o jogo Counter-Strike: Global Offensive marca o fim de mais uma operação, pondo um ponto final na Operação Hydra que durou uns bons meses e trouxe diversos modos de jogo novos para apelar à comunidade em geral.
Nos War Games da operação, que incluía modos de jogo como o Flying Scoutsman que já existia em versões anteriores de jogo via servidores modificados da comunidade, a adesão por parte da comunidade fez com que a Valve adicionasse essa opção de jogo de forma definitiva, não ficando no entanto por aí no que diz respeito a mudanças de forma permanente. Também o Wingman, modo de jogo adicionado que tinha uma vertente de 2vs2 recebeu uma reestruturação, passando oficialmente a ser uma opção de Matchmaking com os mesmos ranks que o atual 5vs5 - indo desde Silver 1 até a Elite Global.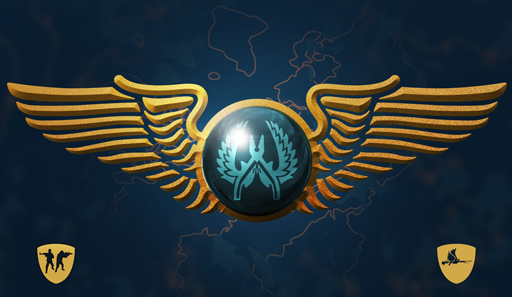 Dois dos modos de jogo mais divertidos que a operação Hydra proporcionou entram de forma definitiva no jogo.
Neste update lançado por parte da Valve, também se pode ver alterações feitas a nível dos logótipos gerais do ranking, podendo ver todas essa mudanças neste
álbum
. Esses logótipos serão também usados no novo modo de Matchmaking 2vs2, mudando no entanto o fundo - irá usar riscas horizontais do grupo competitivo desse rank em vez da camuflagem tropa presente nos atuais ranks do MM 5vs5.
Podem ver todas as mudanças deste update que também se destaca por alterações a nível dos grupos de mapas para diversos modos de jogo no changelog seguinte:
- CSGO
Operation Hydra has come to a close.
- GAMEPLAY
Added Wingman and Flying Scoutsman to the available game modes.
Wingman changes:
Added Wingman-exclusive skill groups for better matchmaking in Wingman.
Added ability to select maps.
Added Nearby Lobbies for Wingman.
Moved Arms Race and Demolition into War Games (with Flying Scoutsman).
All War Games are now maxplayer 12.
- MAPS
Updated maps available in Classic Competitive:
Mirage, Cache, Inferno, Overpass, Cobblestone, Train, Nuke, Dust II, Canals, Office, and Agency.
Updated maps and map groups available in Classic Casual:
Dust II
Defusal Group Delta (Mirage, Austria, Inferno, Shipped, Cache)
Defusal Group Sigma (Cobblestone, Train, Overpass, Nuke, Canals)
Hostage Group (Agency, Insertion, Office, Italy, Assault)
- PRIME
Matchmaking now uses the Trust Factor by default. In the short term, players with Prime status can still choose to match using the old system.
10769